Welcome 2022 WBFI New Members!
Click the company name to view their website and learn more about members who have joined since start of 2022.
Jinhua Hongwei Industry & Trade Co Ltd
Wild Bird Outfitters
Thanks for Flocking With Us!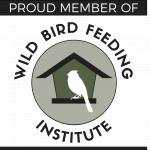 WBFI Mission: Growing the wild bird feeding hobby.
WBFI advances this mission and seeks to connect people with nature by serving members and birders internationally through education, awareness, and conservation partnerships. Our network of committed members, the quality standards we uphold, our expertise, and positive relationships with key organizations drive our success. We are sustainable through membership dues, charitable donations, and programming revenue.