Avian Flu Wild Birds Updates
The Wild Bird Feeding Institute has been diligently monitoring the outbreak of the Highly Pathogenic Avian Influenza virus [HPAI A(H5N1)] outbreak in the United States and Canada. The risk of transmission to humans is very low; there have been no reported human cases in the U.S. So far, there is no evidence that the disease is spread by bird feeders, but experts are advising hobbyists to air on the side of caution.
READ: Jenna McCullough, WBFI Partnered Researcher on What is bird flu and how does it spread?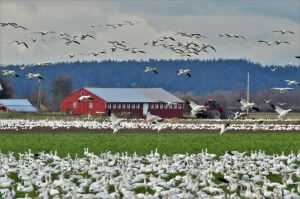 Per USDA, Avian influenza (AI) is caused by an influenza type A virus that can infect poultry (such as chickens, turkeys, pheasants, quail, domestic ducks, geese, and guinea fowl) and wild birds (especially waterfowl).
AI viruses are classified by a combination of two groups of proteins: hemagglutinin or "H" proteins, of which there are 16 (H1–H16), and neuraminidase or "N" proteins, of which there are 9 (N1–N9). AI viruses are further classified by their pathogenicity—the ability of a particular virus strain to produce disease in domestic chickens.
See report of 2022-2023 Detections of Highly Pathogenic Avian Influenza in Wild Birds.
The virus poses a "low risk" to people, according to the CDC. The agency says avian flu viruses "usually do not infect people."
Last updated 2-7-23.
​The Smithsonian National Zoo collects reports of sick birds on a national scale. Read more about the Sick Wild Bird Report. You should also report the illness to your local or state wildlife department.
Hobbyists should ALWAYS use best feeding practices and clean feeders, birdbaths, and around feeding areas regularly to help stop the spread of diseases in birds.
Visit https://www.wbfi.org/feedsmart/ for resources and more information on how to utilize best bird feeding practices.