BUILD AWARENESS.
SUPPORT THE INDUSTRY.
​The Wild Bird Feeding Institute (WBFI) is an association dedicated to the progressive expansion of the backyard wild bird and backyard wildlife feeding industry. WBFI is excited to introduce new advertising opportunities available to WBFI Members to showcase their companies and support the industry!
The time has never been better for our members to benefit from and contribute to WBFI's online presence. Since the launch of the Feed the Birds campaign, all platforms have reported significantly increased traffic. Four advertisement packages are offered, along with one exclusive offer. See more details below to decide which opportunity is the best fit for your company.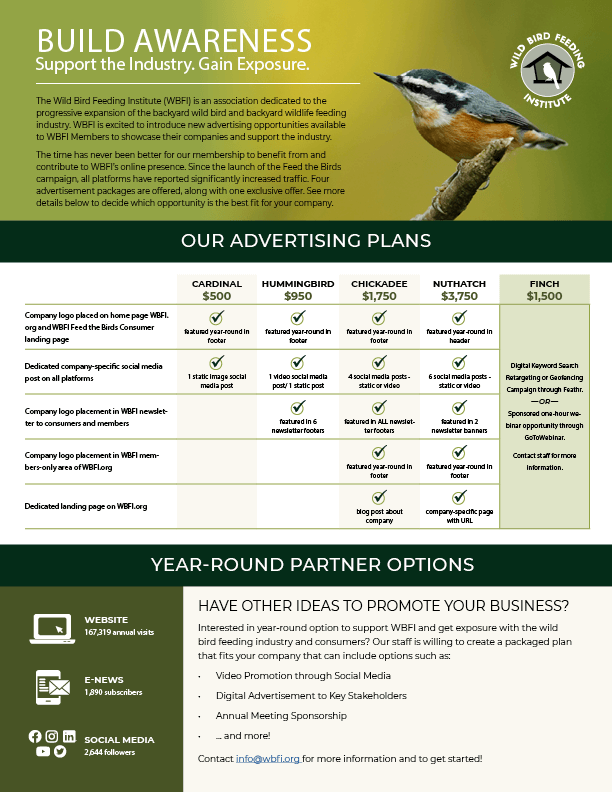 Our members have asked for opportunities to support WBFI and promote their companies with year-round advertising opportunities.  These packages may be purchased right along with your membership renewal. Please reach out to info@wbfi.org if you have questions and wish to take advantage of this new opportunity available to members only.
E-NEWS | 2023 Q1 Summary
Subscribers – 2,054
Click Through Rate – 22.62%
Average Open Rate – 27.09%
WEBSITE | Yearly average
Monthly Traffic – 2,232 views
Daily Traffic – average 145 views
*Stats as of Q1 2023.
INSTAGRAM |  Followers – 1,228 |  Accounts Reached
TIKTOK |  Followers – 947 Followers |  Video Views
FACEBOOK |  Followers – 663 | 358 Page Clicks
LINKEDIN | Followers - 308 | 299 Reactions
TWITTER | Followers – 294