Shop local to find all you need to make your home a sanctuary for birds. Enter your zip and we'll show you WBFI member products and retailers closest to you!
Search
Join the Flock! WBFI is the only trade association that represents businesses that are in the wild bird feeding industry. Learn the ways membership can benefit you.
Learn More
Explore the most current resources from the WBFI on best feeding practices, consumer research, videos, and more! Join as a member to unlock access to all materials.
Learn More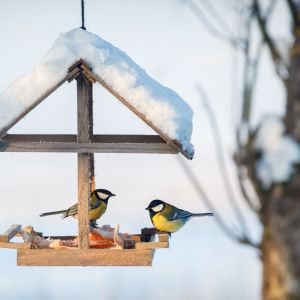 CELEBRATING NATIONAL BIRD FEEDING MONTH: THEN & NOW Birds in North America can have a very difficult time surviving the winter. The days become shorter, and the nights colder and longer. The natural food supply is exhausted or covered by snow, and many insects are dormant or dead. Finding shelter and water is often difficult,…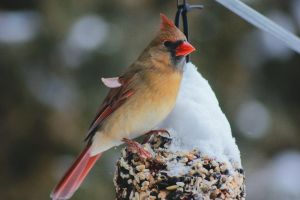 Importance of Helping our Flying Friends in Winter  Getting outside and interacting with birds can be very beneficial for the mind, body, and soul. Spending time with birds can improve general well-being and long-term physical and mental health. The benefits of being outside include mitigated symptoms of anxiety and depression, reduced risk of heart disease,…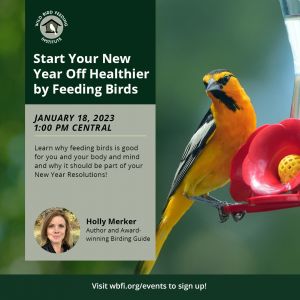 How Birdwatching Can Improve Your Life You might be wondering how birdwatching could possibly be beneficial to your life, or how hiking through a quiet field during the winter might improve your overall well-being. Author and former marriage & family therapist Tammah Watts asked herself this question and came up with the conclusion that birdwatching…
The only central network of organizations supporting the Wild Bird Feeding Industry.
The Wild Bird Feeding Institute's (WBFI) marketing campaign, #FeedTheBirds is an ongoing marketing initiative to highlight the benefits of the birds feeding hobby.
This campaign focuses on the mental health benefits of bird feeding. Several studies prove birds help lower stress, anxiety, and depression. With technology becoming more pervasive, and society's concern with mental wellness, we think interacting with birds is a natural remedy.
GET STARTED HERE WITH FEEDING RESOURCES:
Read More