Nyjer® is a small, thin, black or brown seed from the African Daisy - Guizotia abyssinica. Nyjer® seed is high in oil, it is a nutritious source of energy for backyard birds. Foraging birds with smaller, sharply-pointed bills that can cling to feeders are the main consumer of Nyjer® seed. Some of the birds that prefer the seed are American goldfinches, dark-eyed juncos, pine siskins, and mourning doves.
WBFI recommends the use of the term NYJER® to eliminate the offensive mispronunciation of the term "Niger". The term also prevents the common misconception of "thistle seed" being correlated with the noxious weed Canada Thistle or Creeping Thistle.
SEE THE INFO ON THE NYJER® TRADEMARK BELOW!
WHY USE THE Nyjer® TRADEMARK?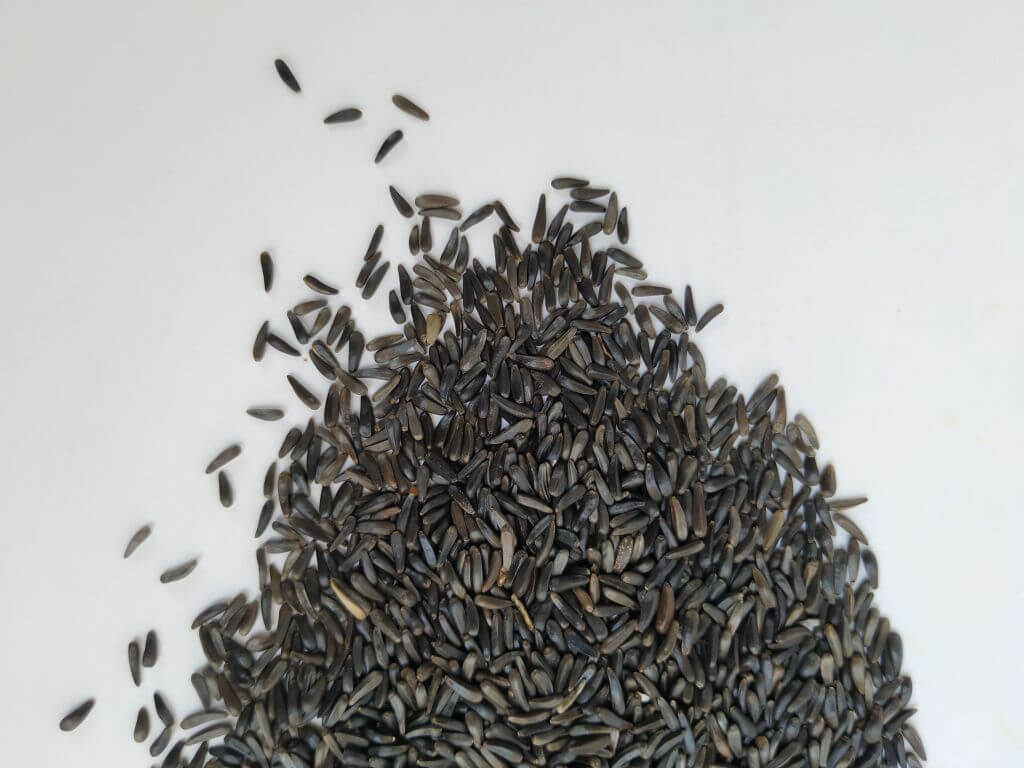 ​Nyjer® has been a registered trademark of the Wild Bird Feeding Institute since 1999. As of January 1, 2023, WBFI has moved from an open-licensing system to allowing members of WBFI to use the trademark and non-members to apply for an annual fee.
A grace period until July 1, 2023, will provide companies to adjust packaging if membership or licensing of the trademark is not pursued.
Selling mixes or products that include Nyjer®? See below for those licensed to use the trademark and to apply.
Who Can Use the Nyjer® TRADEMARK?
As of January 1, 2023, WBFI has modified trademark requirements and extended a 6-month grace period for companies to adjust to the guidelines outlined below. There is no fee to WBFI members for the use of the trademarked word and can be used by non-members for a yearly fee. Both WBFI members and non-members must complete the Trademark Usage Application to gain access to the trademark.
READ MORE ON NYJER® BELOW!
WBFI Authorized Nyjer® Users
American Distributing & Manufacturing Co.
All Seasons Wild Bird Store Inc
Armstrong Milling
ASA Agrotech Private Limited
Backyard Nature Products, LLC
Brome Bird Care, Inc.
C & S Products
Central Garden and Pet
Chuckanut Products Inc
Commodity Marketing Company
Co-operative Feed Dealers- Aspen Song
Cosmed Group
D & D Commodities
The DeLong Company, Inc.
Duncraft, Inc.
Essex Topcrop Sales Limited
F.M. Brown's Sons, Inc.
Global Harvest Foods, LLC
Gold Crest Distributing
I.S.I. of Baltimore
Jay's Bird Barn
Jbirds Bird Country
John A. Van Den Bosch Company
Kalshea Commodities Inc
Lebanon Seaboard Corporation
Nature's Way Bird Products, LLC
Panacea Products
Pravesh Exports Private Limited
Prince Corporation
Red River Commodities, Inc.
Red River Global Ingredients
Scoular
Seed Factory Northwest Inc
Ted's Pet & Feed
The Backyard Bird Feeder
The Happy Birdwatcher Company
Turtle Mountain Seed
United Hardware
Volkman Pet Products
Wagner's, LLC
Wild Birds Unlimited and all WBU franchise stores

Last updated: February 15th, 2023