Wild Bird Products Market Overview and Future
The global wild bird products market and awareness for wild birds continues to grow! In 2021, the global wild bird products market was valued at USD 5.02 billion and is expected to reach USD 6.42 billion by 2028, at a compound annual growth rate of 3.58%. As the wild bird feeding hobby grows in popularity, the market growth of wild bird products for commercially manufactured foods and bird feeders will continue to accelerate.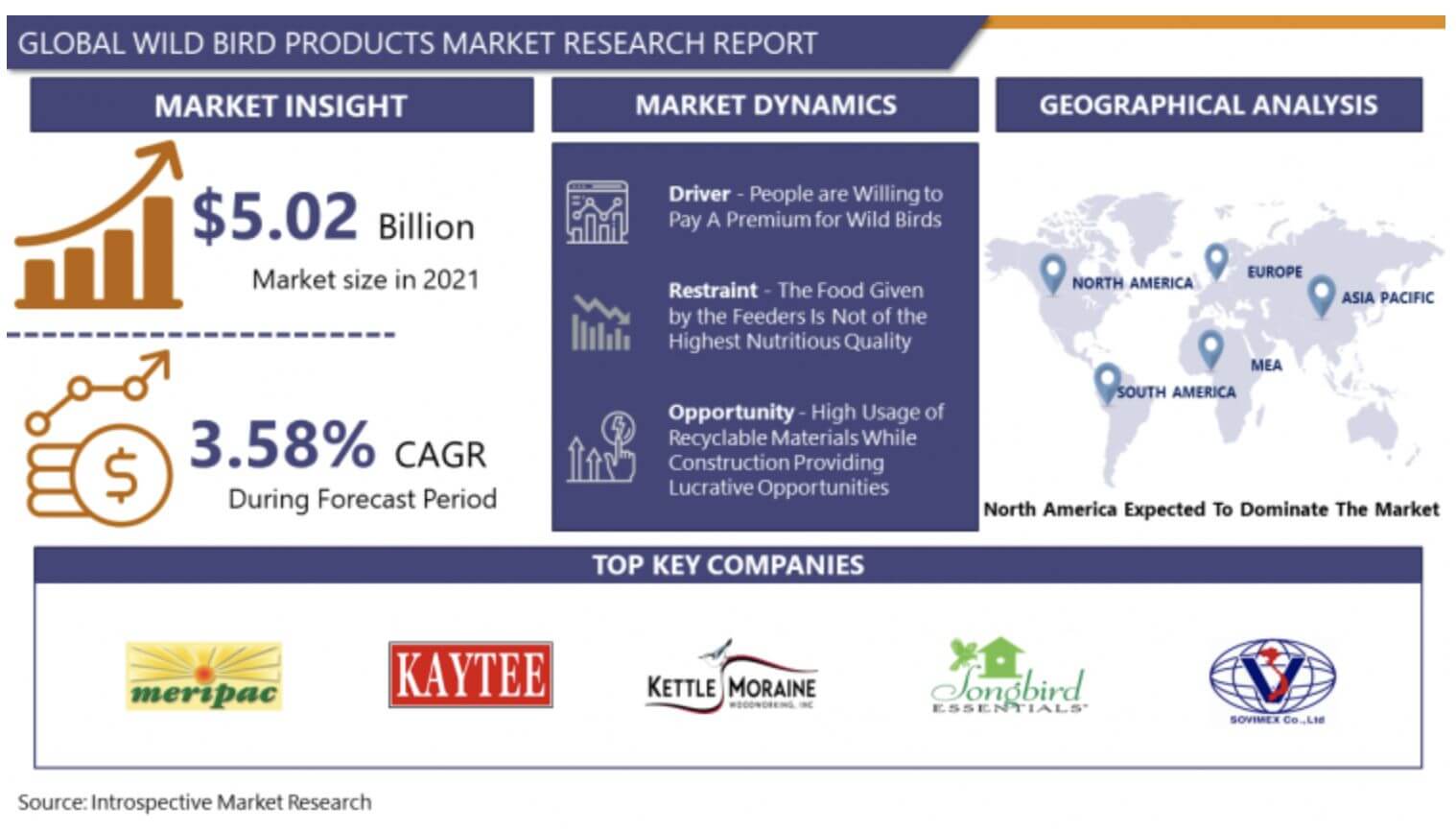 The maximum market for wild bird products is projected to be dominated by the basic seed mix segment, based on the type of feed.  Basic seed blends are a mix of two or more types of seed that are advertised as a "mixture of certified seed". Black oil sunflower seeds are the most common bird seed and have a high oil and fat content, making them a vital winter food source for birds. This category is predicted to increase at a high rate during the forecast period. 
Profits for feeder equipment are also likely to increase. Hopper bird feeders are expected to dominate the wild bird products market, protecting seeds from the elements and bird droppings. They can carry enough seed to last many days. They also contain a significant amount of birdseed, making them convenient for people. 
North America is a lucrative market for wild bird products, with the National Bird-Feeding Society (NBFS) helping to expand the industry. February is also designated as National Bird-Feeding Month, providing development potential for the area's wild bird products industry. Europe is expected to be the second most profitable market-growing area due to the presence of key companies and strong government measures for wildlife conservation.  
Current Players Covered in the Wild Bird Products market are:  
Xiamen Golden Luck Trade Co. Ltd (China)

 

Seed Feeder for Birds (US)

 

Sovimex (Vietnam)

 
Importadora Nicolas Cruz Bravo E.I.R.L (Chile)

 

Meripac Limited (UK)

 

Kettle Moraine (US)

 

DonLoro (Spain)

 
For more information on current and future wild bird product market research, check out this article and WBFI's Pulse of the Industry reports