Avian Flu Wild Birds - 2022 Updates
The Wild Bird Feeding Institute has been diligently monitoring the outbreak of the Highly Pathogenic Avian Influenza virus [HPAI A(H5N1)] outbreak in the United States and Canada. The risk of transmission to humans is very low; there have been no reported human cases in the U.S. So far, there is no evidence that the disease is spread by bird feeders, but experts are advising hobbyists to air on the side of caution.
READ: Jenna McCullough, WBFI Partnered Researcher on What is bird flu and how does it spread?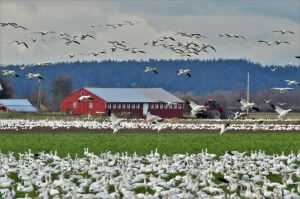 Not sure whether or not you should take down your feeder?
WBFI has been closely monitoring the situation since January 2022 taking recommendations from the United States and Canadian governments, our partnered organizations, and conservation/wildlife agencies. Some are recommending the temporary removal of feeders, but does this apply to you? Here is what we advise based on the information we have so far, please note that this may change as the situation evolves, we will update as soon as possible and let you know when it is ok to put them back up if the following conditions below apply to you.
You should consider temporarily take down your feeder temporarily if:
You are taking care of backyard/domestic poultry or live near a commercial poultry site.

The United States Department of Agriculture reports that "Removing backyard feeders is not something the USDA specifically recommends preventing avian influenza unless you also take care of poultry."
From the Government of Canada website, regarding "Feeding wild birds in your backyard: "The use of bird feeders is still safe but they should be removed from areas that are open to poultry and other domestic animals."
WBFI recommends looking at the CDC's map of commercial outbreaks to consider whether feeders in the area should be taken down temporarily due to outbreaks and to take down if there is backyard poultry in the same area as feeders
Unsure? Contact your local or state wildlife department to see if taking their feeder down is their recommendation based on HPAI/migration activity in your area.
Your local/state wildlife agency recommends removing it because you live in an area with many HPAI-positive wild bird cases recorded.

To date, WBFI has not heard from any state wildlife agencies that are recommending this at this time unless you are working with poultry.
See national trackers below for the most recent stats on outbreaks:
As an additional cautionary measure - the temporary removal of feeders may be advised if you have seen species of wild birds that have been impacted most by HPAI: raptors, waterfowl, shorebirds, scavenger birds, or game birds visiting near the feeders frequently.
LAST UPDATED 4/21/22
​The Smithsonian National Zoo collects reports of sick birds on a national scale. Read more about the Sick Wild Bird Report. You should also report the illness to your local or state wildlife department.
Hobbyists should ALWAYS use best feeding practices and clean feeders, birdbaths, and around feeding areas regularly to help stop the spread of diseases in birds.
Visit https://www.wbfi.org/feedsmart/ for resources and more information on how to utilize best bird feeding practices.