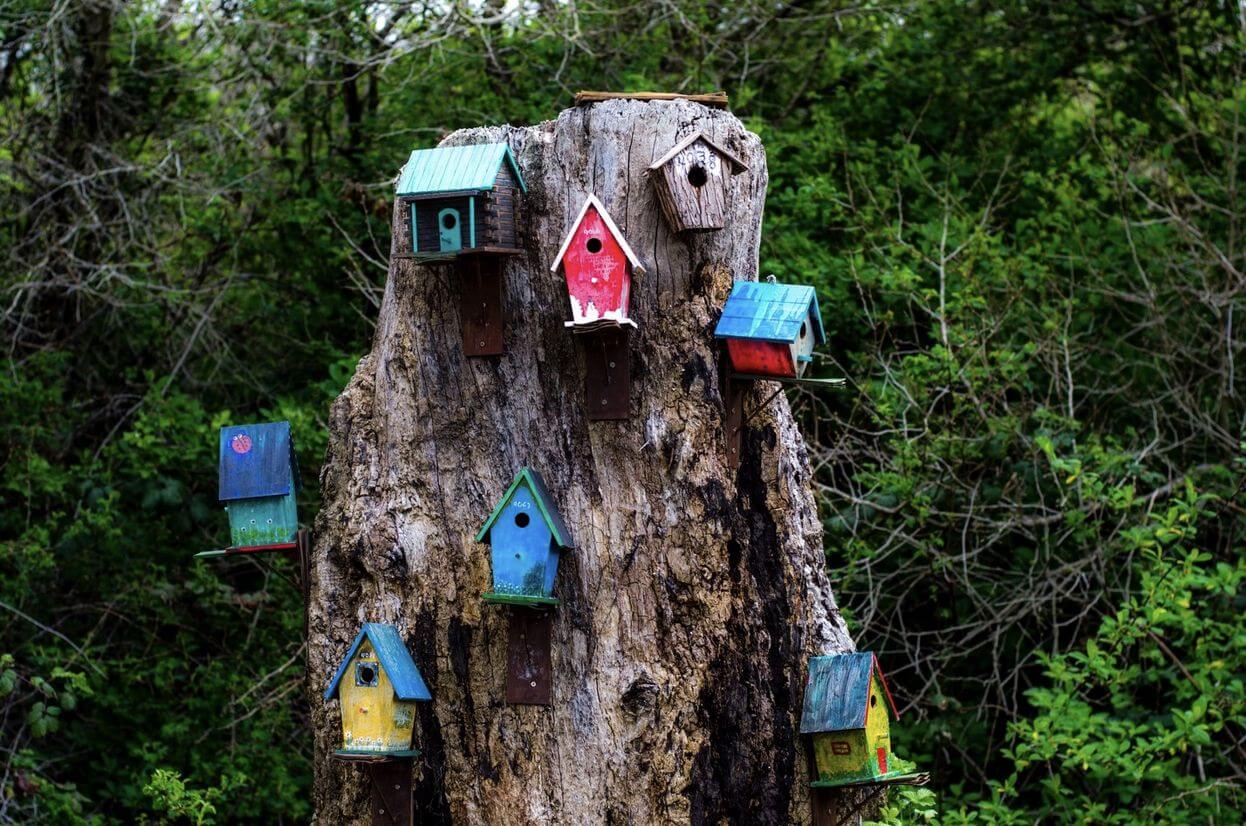 How many bird features are too many in your garden? Does such a limit exist? This is the problem that Michelle Slatalla at the Wall Street Journal faced recently. "When does adding one more thing cause the [garden] design to descend into chaos?"
We've all been out shopping or browsing online and seen an original bird house design that is truly a work of art. We must have it in our backyard. After all, it's just one more thing in our garden. There's a fine line between a tranquil garden and a weekend flea market, but who can't make room for just one more birdhouse?
As we wrote about here, our birds need all the help they can get, and our gardens provide a much needed refuge. "Of 85 North American bird species that nest in cavities, about three dozen—including chickadees, titmice, bluebirds, and wrens—will nest in birdhouses, said Mary Phillips, who manages the National Wildlife Federation's Garden for Wildlife program."
So for the bird's sake, there must be somewhere we can put a birdhouse, right?
Roger Lederer, an emeritus professor of biological sciences at California State University Chico, said, "in a large garden, you can install bird boxes of different sizes." He has roughly 20 bird boxes in his yard that's just over an acre and a half. "But for any bird box, there are some general rules for design," Roger said.  For instance:
1. Keep it simple. Birds don't share our architectural preferences. A good design for common species of small birds "is the simple, unpainted kind you find at a bird-supply store: shaped like a box with an entry hole...an inch and a half in diameter," said Tia Pinney, senior naturalist at Mass Audubon's Drumlin Farm Wildlife Sanctuary in Lincoln, Mass. "In general, cute birdhouses are designed to be decorative rather than useful for birds."
2. Choose the right materials.  A natural rot-resistant wood, such as cedar, is the simplest and tends to stay the coolest in warmer locations. However, a recycled plastic or aluminum house will also do the trick. Just make sure the paint is non-toxic.
3. Nix a perch. "For decorative purposes, a lot of birdhouses have a perch. But you don't want that, because predators tend to rest on those and try to get at the baby birds inside," said Ms. Phillips.
4. Consider the front door. Different species of birds require different-size entryways. "Bigger holes attract bigger birds," said Prof. Lederer. For instance, bluebirds prefer a 1.5-inch entrance hole. For smaller birds such as wrens, a 1-inch hole is better for keeping larger birds away.
5. Pick the right roof. A birdhouse with a flat roof is more likely to collect rainwater—and to leak—than a pitched roof. "The best is a slightly pitched shed roof, which gives birds a place to land and is still functional because water will drain off," said Ms. Pinney.
6. Choose the right location. A birdhouse on a pole in the middle of the garden or sited near your house may create an attractive design element, "but some species, like bluebirds, are only going to nest away from your house," said Prof. Tarr.
7. Repeat a good thing. If your garden is big enough, install multiple birdhouses, because birds can be picky. "There is a better chance the birds will like one of the locations if they have a choice," said Dr. Shultz. A good distance between birdhouses is 30 to 40 feet, said Prof. Lederer. "That way they won't feel too much competition for food."
If you're still concerned about your tranquil garden design, Slatalla's rule of thumb is that in a garden you should only be able to see one non-natural design element at a time. Our rule of thumb? If it makes you and the birds happy, fill your garden with as many birdhouses as you can.
READ MORE: https://www.wsj.com/articles/best-birdhouses-designs-for-birds-11668026656
JOIN WBFI: https://www.wbfi.org/join/